Motorola's Razr foldable flip phone hits Australia next month at $2699
Motorola has announced its modernised Razr flip phone will launch in Australia next month, following Samsung's Galaxy Fold as the second foldable screen phone to officially hit our shores.
Motorola — which in a smartphone context these days is a brand of Chinese computer company Lenovo — unveiled the Razr in November, but the new announcement includes additional details about its design and availability, including that it will retail for an eyebrow-raising $2699 despite some decidedly mid-range specs.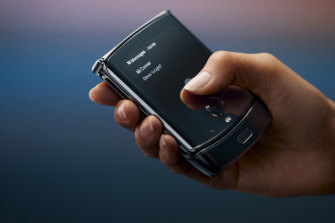 The primary selling point of the 2020 Razr is that it can be used as a folded up square or unfolded to become a full sized phone. It keeps the same slim foldable sillhouette as the 2000s favourite, measuring at a pocketable 7.2cm x 9.4cm when closed and featuring a small 2.7-inch screen on the outside of the clamshell for notifications.
Unfolding the phone reveals a 6.2-inch OLED in a 21:9 ratio, the same cinematic shape as tall phones like the Sony Xperia 1, although the Razr packs the much lower resolution of 876 x 2142. This means that — unlike Samsung's foldable phone — the Razr has a similar screen shape to other modern Android smartphones, just with a big chin and fingerprint scanner at the bottom.
Under the hood is a Snapdragon 710 processor, the same that powers premium mid range phones including the Nokia 8.1 and Oppo R17 Pro, both originally released in late 2018. There's also 6GB of RAM, 128GB of storage and a surprisingly meagre 2510mAh battery.
The lower powered chipset and the fact that users can make calls, take selfies, tap to pay and more using the smaller outside screen could help conserve power, but even the mid-range phones listed above have batteries larger than 3500mAh. The official website states a median user under ideal network conditions should expect "all day" battery life.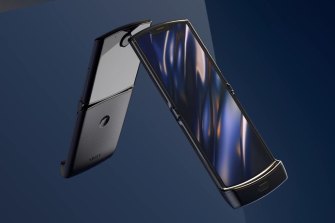 Motorola says the new Razr has a splashproof design, a zero gap hinge and Gorilla Glass covering the outer shell to prevent the kind of durability concerns some users expressed over the Galaxy Fold. It also has a single 16MP primary camera on the outside, and a 5MP selfie cam in a notch above the screen.
Loading
The new Razr runs Android 9 and does not have a headphone jack, but comes with a USB-C dongle. It will be the first phone in Australia to lack a physical SIM card slot, meaning users will need to sign up for an eSIM. Currently Telstra, Optus and Vodafone offer eSIM plans, but many smaller telcos do not.
The Motorola Razr will be available from the online Motorola store and JB H-Fi on February 24, with availability from Telstra to be announced soon.
Most Viewed in Technology
Loading