Facebook has banned the sharing or viewing of our news articles on its platform. For independent journalism straight from the source, download our app and sign up to our newsletters.
Amazon is ready to make its next gadget, but it's letting consumers vote with their wallets to decide what it will be.
The tech giant is operating a new Kickstarter-like program called Build It, where Amazon will present concepts for devices and leave it to shoppers to choose whether they want it built by pledging their own money.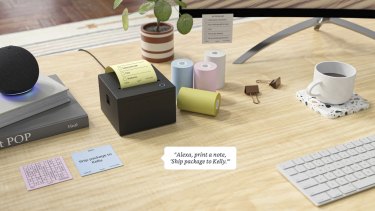 If a concept hits a set pledge goal within 30 days, Amazon will create the device and consumers who pledged will receive one. If it doesn't make the goal, the product won't get built and shoppers won't be charged. Currently, the program only appears to be available in the US.
Amazon currently has three Build It projects listed:
Smart sticky note printer. It supports Alexa, allowing users to print out sticky notes like shopping lists with just their voice. They can also print other items like to-do lists or even puzzles. The printer uses thermal technology instead of ink or toner, is listed at $114 and achieved its pledge goal within three days (Amazon doesn't specify the exact goal).
Smart nutrition scale. The scale offers information on food and ingredients based on weight, and pairs with an Echo Show smart display. So for example if you put in a handful of blueberries, the scale will weigh it and display on the Show the typical nutrition values of that amount of blueberries. It's listed at $44.
Smart cuckoo clock. Amazon already makes a smart wall clock, but this one boasts a pendulum and a mechanical bird that pops out every hour or whenever you choose. It has LEDs to display timers visually, as well as a basic speaker. Users can hang it on a wall or remove the pendulum to place it on a shelf. It's priced at $102 and has been slowest to accrue pledges so far.
Loading
Build It is part of Amazon's Day 1 Editions program, which provides customers early access to products so they can contribute feedback. One of the most recent products released through Day 1 was smart glasses called Echo Frames.
With almost two million employees, Amazon is an online retail and web services giant that reported net sales of $US386 billion ($490 billion) for full year 2020.
USA Today, with staff reporters
Technology newsletter
The top technology stories, gadget releases and gaming reviews delivered every Friday. Sign up here.
Most Viewed in Technology
Loading